We strive to give personalized service and answers to questions and have put together some resources below to save you time in waiting for an answer to your question. 
We often hear people say that they want to know they are dealing with "real people" when making their purchase.  Let us assure you that the Fear Not team will work together to bring you the best possible buying experience anyone can offer.  Whether you are new to 'spidering' or are a seasoned collector, we are here for you every step of the way.  
Please check out the information below before emailing questions.  That helps us be able to focus on providing the best experience we can.
For more details about what to expect after ordering, please see What to expect when you order from Fear Not Tarantulas from the menu.
The answers to many questions can be found below and in your order confirmation email (if you have placed an order).  If you have a question, try clicking on the green help button on the bottom right of the screen.

Mondays and Tuesdays are very busy shipping times and it is likely questions unrelated to orders going out those days will be answered later in the week or the weekend.  Once you have placed an order, you may received details about shipping within a day or two from our shipping department.  
ADVICE ABOUT WHICH SPECIES TO GET: It always brings us joy when someone makes us part of their first tarantula buying experience.  We enjoy discussing the many species available and the care involved in keeping them.  It is a good idea to get to know some of the species, see how they move and respond, and learn about the care involved in taking care of them.  We have general information on our "Species Descriptions" page.  A great place to learn about many species is tomsbigspiders.com.  Take a look at the many videos available on YouTube from Tom's Big Spiders.  Are you nervous about taking care of a small spiderling?  You will want to check out The Ultimate Tarantula Sling Guide.
LOOKING FOR YOUR SHIPPING DETAILS, TRACKING, or an order confirmation?   Please check your SPAM folder before contacting us.
Email: support@fearnottarantulas.com.  Please include your first and last name and your order number if you have one. 
What You Should Know Before Ordering From Fear Not Tarantulas
We strive to set the standard for personalized service and professionalism. It is always very important to us that you are 100% satisfied with your purchase and we will do everything we can to ensure that you are happy with the service we have provided and your new tarantulas. Communication is important, so please always feel free to email us at support@fearnottarantulas.com if you have any questions, concerns, or suggestions. We know that you have other choices when it comes to purchasing tarantulas and we appreciate our customers very much.
Terms of Service
There is a minimum order of $50.00 for purchasing tarantulas to be shipped.   The $50 minimum includes the cost of tarantulas only, not the cost of shipping.  It is often more expensive for us to ship overnight than the $45 shipping fee, so we have set a minimum purchase amount.
Changes to or cancellation of your order can be made if we receive notification via email by 6:00 PM EST the night before shipping day.  We cannot cancel an order on or after the day of shipping.
By agreeing to these terms at checkout, you are indicating that you are 18 years of age or older.  If you wish to purchase tarantulas and you are under 18, please email, text, or call us (see contact page)  and we will help you with the purchase.
Our shipping schedule fills up quickly for Mondays.  It is a good idea to have orders in by Friday for shipping the next week.  Orders that come in after Saturday often ship the next week.
We ship on Mondays and Tuesdays.  We will never ever ship a package without first receiving confirmation that the delivery day is a good one for you, so there is no need to worry about receiving your order before you are ready.   A tracking number will be provided via email from FedEx no later than the day of shipment.  There will be times when shipping must be delayed due to weather, our expo schedule, or if a tarantula you ordered has recently molted or appears to be about to molt.  You will be notified via email if that is the case.
We ship using Federal Express.  Shipping  is $45 and is overnight in all cases.  
When you place your order, you can indicate what day is best for you to receive your order (Tuesday or Wednesday).  We will accommodate your schedule to ensure you are able to sign for your new pet/s when they are delivered. ***"Overnight shipping" does not mean your order will be shipped the night you order.  Your order will be shipped overnight on our next shipping day.***
Shipping charges are not refundable.
A signature is always required at delivery.  For home deliveries, you must be available to sign for your order on the first delivery attempt or your guarantee of live arrival will be void.   When picking up your order at a FedEx center, it is very important to have a valid ID.  If you do not have a valid ID, someone will need to accommodate you to pick it up and we will have to add their name to the shipping label.  If we have to do that after the package has arrived, FedEx charges us $15 which would be passed onto you, so be sure to let us know before we ship your order.
A word about CARRIER DELAYS:   If a carrier delay causes your tarantulas to arrive on a day other than scheduled, we will still guarantee the live arrival of your tarantulas.  This is a policy that is different from what many other dealers have, but we believe it is the right thing to do.  A carrier delay can occur due to weather, mechanical issues,  or confusion that happens on the part of FedEx.  We have found Federal Express to be the most reliable shipping service and delays do not happen often.
Federal Express DOES NOT reimburse Fear Not Tarantulas for lost packages or the loss of tarantulas.  We take as many precautions as we possibly can to ensure we ship at a time when delays are less likely to happen, and your new tarantulas will arrive safely. You must still be available to sign for your package the day of delivery, even if the carrier is a bit earlier or later than the estimated arrival time given to us by FedEx in order for the guarantee of live arrival to apply.
 Unable To Be Delivered or Unclaimed.  If your order is not picked up at the FedEx location within 24 hours of delivery, and you have not let us know you cannot pick it up, we reserve the right to have it shipped back to us.  If you do not claim your package within 24 hours and it is shipped back to us, we will not refund your order.  If there is a reason you cannot pick your package up, let us know.  We will not allow an order to sit at a FedEx facility unclaimed for the safety of the animals.
Live Arrival Guarantee. We guarantee that your tarantula will arrive alive.  In the rare instance that you receive a tarantula that is not alive, we will replace it as long as a couple of conditions are met.  The details are below, and they are simple.
If you have purchased a 'Complete Package', we offer a 30 day guarantee on the tarantula.  The live guarantee is treated differently for spiderlings purchased in a package.  We offer a replacement of the spiderling but cannot offer a refund since other things were shipped as well.
Our Live Arrival Guarantee will be void if you are not home to receive the package on the FIRST delivery attempt.  This is the case even if the carrier is later or earlier than the time given to you. You should be available to receive your package the entire day of delivery and consider that the time given to us by FedEx is an estimate and may be a bit earlier or later due to possible traffic, weather, or incidences in your area.  If you are unable to be home the day of delivery, please consider having your order shipped to a FedEx center for pickup.  If we shipped to a FedEx center, you must pick your order up within 2 hours of it's arrival to the center.
We must be notified within 1 hour of delivery  if a tarantula arrived DOA.  If we are not notified within 1 hour of delivery, the live animal guarantee is void.  We must also receive a clear picture of the deceased tarantula laid out on a ruler.
To summarize, the live arrival guarantee guidelines are:
Be available to sign for your package the entire day of delivery for home or business arrival.  Delivery must be made on the first attempt.
Pick up your order within 2 hours of the package being available at a FedEx center for deliveries to a FedEx center. *May be 1 hour if temperatures are fluctuating but you will be notified if that is the case.
Notify us about any concerns within 1 hour of receiving your package. Provide pictures.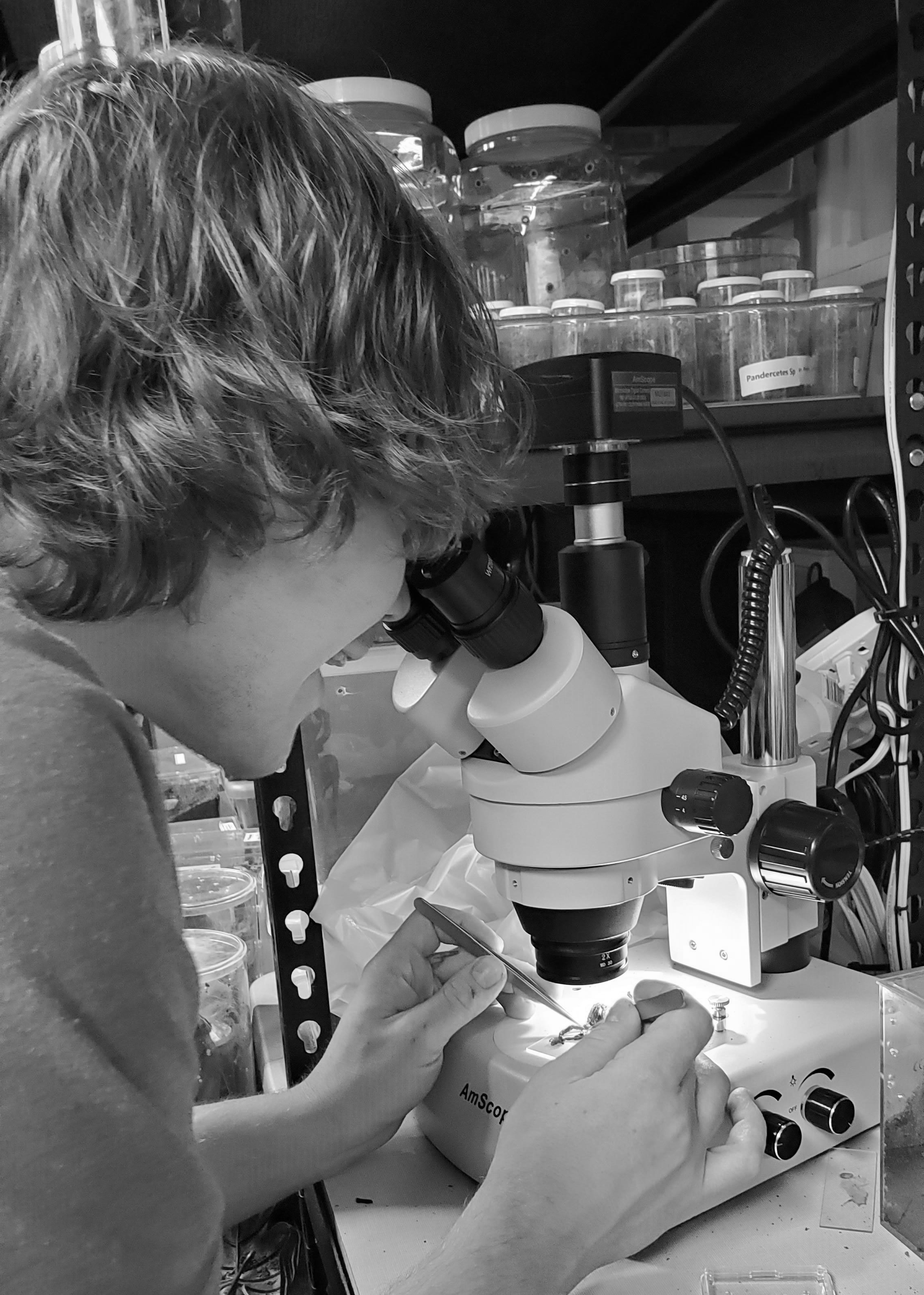 If you purchased a sexed tarantula: We guarantee the sex of your tarantula for three months or until the next molt.  I know that might sound silly at first, but we want to prevent you from raising up a tarantula for years only then to be hit with the surprise of a mature male.  This also prevents someone from coming back to us years later and telling us they purchased a female but there may be no record of the purchase or there may be a question of if that particular tarantula was from Fear Not.  So to avoid all those unpleasant possibilities, we ask that either you verify the sex with the next molt yourself,  or send it in a vial and we will sex it under the microscope again and send a picture of the molt to show you the sex.
We do not sell a tarantula as sexed unless we are as certain of the sex as we can be using a molt to confirm, but mistakes are possible.
Regarding the receipt of DOA tarantulas:   These are precious creatures that we give a lot of care and time to, and we have a genuine affection for them, so we do our absolute best to ensure that your tarantulas arrive safely.   If your tarantula is not moving, first see the instructions below.  Do not assume it is dead if it is not moving.  We will always request photos of DOA tarantulas, and may request that they be shipped back to us at our expense.  Credit will be issued after we receive a clear photo of the animal, and / or the carcass if requested. Place the tarantula on a ruler and take a clear picture.   The photo must be received the day of delivery in order for the live animal guarantee to be honored.  If the tarantula that arrived DOA was one given as a bonus, Fear Not is under no obligation to replace it, but we will offer to replace it with your next order as long as it is still being offered as a 'freebie'.
 If your new tarantula is not moving when you unwrap it, follow these directions:
Try placing the mouth parts directly on a drop of water.  Fill a bottle cap with water and push it into the substrate so it is level with the substrate. Place the spiderling's mouth directly on the water.  Keep it in a covered deli-cup in a warm area.  Give it a couple of hours and see if it starts moving.

NEVER assume a tarantula that is not moving is dead!

 They tend to go into a hibernation type state when stressed or with certain temperature changes and we have seen many seemingly dead tarantulas come back around.  In addition, it could be molting.
Post-shipment Care
Shipping can be stressful for tarantulas and the right care given to them after unpacking is crucial to how well they do. Please read the following tips to help ensure the best possible conditions are present for the health of your new tarantula.
For help knowing how to unpack spiderlings, please follow the link below to a video.  Skip to the 28th minute mark to see only the unpacking demonstration.  https://youtu.be/-CepME20ZDg
Be sure to have habitats ready for your new pet/s on delivery day.
Be sure to mist the habitat before introducing the tarantula to its new home.  Mist both the walls and substrate.  Tarantulas sometimes get dehydrated during the shipping process, and having water droplets accessible is very important.
Unpack them as soon after your package arrives as possible. If you cannot unpack them right away, be sure to remove the heat or cold pack from the box if one was provided.
Unpacking small spiderlings can be fatal to them if not done properly.  It is easy to damage a spiderling, so great care must be taken.  Do not pull on the paper tubing if the tubing starts to twist.  The tube should come out of the vial easily, but there are times it may not.  If the paper tubing twists, the spiderling could become entangled and get injured.  If your tarantula is not moving, it may be molting and should be left alone for a few minutes to see if there are any changes.  The stress of shipping can cause an early molt.
You can try feeding the same day, but we feed spiderlings the weekend before being shipped.  If the food is not taken, be sure to remove it so a cricket or roach running around does not further stress your new pet.
FAQ
It is very cold (or hot) where I live. Do you ship in cold (or hot) weather?
After you order we will look at the temperatures in your area and let you know if we have any concerns.  If you have chose to have us ship to your home, we may ask if we can change to ship to a  FedEx center.  The reason for that is all shipment to a FedEx center are delivered first, so there is much less time in a hot or cold truck.
We can ship to destinations with temperatures in the single digits as long as it is to a FedEx center with an early morning delivery.
All our packages spend the night at Memphis, TN, so if we see very cold weather or a storm brewing there, we may ask that shipping be delayed until it clears up.  This helps avoid flight delays between Memphis and the destination.
I want to have my order held at a FedEx center, but how do I know which FedEx you will ship to?
Shortly after ordering (usually within a few hours but it could be the next day), our shipping coordinator will contact you with shipping information.  We will have the location of the Shipping Center nearest to your billing address in the email with other shipping details.   You will have the opportunity to ask questions and make changes to the shipping method before we ship.  It is important to reply back to that email after looking at the shipping date and location in order for us to add you to the shipping schedule. We will never ship an order until we receive confirmation that the date an place works for you.
Why can't I have my package held at a FedEx Print and Ship or Walgreens location?
Fear Not Tarantulas received the first approval from FedEx to ship spiders.  It required the collaboration of those in many fields of study including entomologists, archaeologists, and venomologists from around the globe.  We showed FedEx our shipping methods which has become the standard they look for and convinced them it is safe for their staff and the animals to ship.
FedEx has certain guidelines that we follow for the safe delivery of the animals.  We ship to FedEx Shipping Centers only because those are the only locations that live animals can be shipped to.  If we ship to any other location, we would not be able to indicate that a live animal is in the box.  Shipping to a Print and Ship or Walgreens FedEx location is prohibited and may cause the package to be sent to the nearest 'Ship Center' which may cause a delay in delivery.
Packages that show a live animal is in the box is given priority and handled differently than other packages, so it is important that any living thing that is being shipped have the "Live Animal" label on it. We know many packages make it just fine to their destinations when shipped to other locations without being properly documented, but it does add risk to the shipment and it also is against FedEx rules.  We think it is important to follow their rules so the privilege of being able to openly ship spiders using FedEx is not taken away.
What is required for the live arrival guarantee (LAG) to be in effect?
Fear Not Tarantulas offers the best live arrival guarantee in the industry. We are confident that our packing and shipping methods make the risk of shipping tarantulas very minimal.
You may see other sellers have a disclaimer in their LAG policy that states they are not responsible for "carrier delays".  We believe that it is the responsibility of the seller to guarantee the live arrival of a living creature even in the case of carrier delays.  If your delivery is delayed because of a mechanical issue with an airplane, weather, or any reason related to the carrier (FedEx), we will still guarantee live arrival.
The package must be picked up within 2 hours of being available at Fedex. *See below
For home deliveries, the package must be able to be delivered on the first delivery attempt.
If you have any concerns at all about the spiderling, it must be reported to us within 1 hour of being picked up or delivered. Even if the spiderling is not moving as expected, let us know right away and we will work with you.
Provide pictures of the spiderling when reporting a problem.
*There may be times that we require packages to be picked up within an hour of being available.  This is usually when due to temperatures and the need to use a heat or cold pack.  If that is the case it will be in the email you receive with shipping details.
What is required for the 30 day guarantee to be in place for spiderlings purchased in the Complete Package?
We are glad to be able to offer many species in our 'Complete Package'.  We know that you will have the right habitat, substrate, foliage and food for your new spiderling.  It is important to us that you have the best experience possible, so we put together the right tools for you and your spiderling.
We know there is a lot of conflicting information out there about the proper habitat setup for these creatures.  Some things are just preferences and not necessarily 'right' or 'wrong', but we do ask that you use only what we send and set up the habitat as we ask for at least the first 30 days.  A lot of thought and experience has been put into our reasoning.  It is all about making sure you have the best possible experience with your spiderling.
The simple guidelines for our regular live guarantee must be met.  Just make sure you pick up your order within 2 hours of it being available to FedEx, or that it is able to be delivered on the first delivery attempt for home deliveries.
Use only the habitat, foliage, and substrate that we provide and do not add anything else other than a bottle cap for water.
If we send an arboreal habitat, use it right-side-up only.
Read the Spiderling Care Guide.  A link to the guide is send with your confirmation and shipping emails.
Report any challenges to us right away and include a picture of he spiderling and the habitat it is in.
If you have any questions at all or feel the need to do something different, please contact us at support@fearnottarantulas.com
The spiderling I received is smaller than I expected. What can I do?
We know it can be disappointing to receive a spiderling smaller than you expected.  First, keep in mind that
we have always made it right with a customer if they received a spiderling smaller than advertised. 
 It does not happen often, but if we have more than one size available, our spider packers may accidentally send the wrong size.
Let's make sure we are measuring the same way.  Please check out how we measure below.
All we need is a photo verification that a smaller spiderling was sent.   Simply put a coin on the substrate and guide the spiderling onto the coin. While it is stretched out take a picture and email it to us.
How We Measure Spiders
It is important that you know what to expect when your new tarantula arrives. Understanding how we measure spiders will help you better prepare for your new addition.  If you are new to keeping tarantulas, you may be surprised about the size of the spiderling you receive.
Spiders are measured as if they were stretched out. A diagonal measurement is frequently used, crossing the spider from the tip of the top leg to the tip of the bottom leg. Examples of how we measure can be seen below.
Please keep in mind that when your spiderling arrives, it may look much smaller at first because it will likely not stretch out until it feels comfortable.
I like the habitat that came with my 'Complete Package'. Do you sell them separately?
Would you send me a female spiderling?
When we have sexed spiders, we list them as male or female on our site – otherwise they are unsexed.  When we have raised up a spiderling long enough and found a molt good enough to sex, we list it on our website as female or male.
Most tarantulas sell before they have grown to a size large enough for us to sex their molts.  We often keep males for our breeding projects and those who partner with us on breeding projects.
I added more to my order and now qualify for a different freebie. Can I change my freebie choice?
Yes.  You can add the new freebie choice in with your added selections and just note that you want to change to that freebie in the order notes.
If you have already completed your second order, you can create a third order with just the new freebie choice and let us know in the order notes that you want to make the switch.
Can I add something to my order before it ships? 
We make it easy to add to your shipment. 
You can add to your shipment as long as it is not within 24 hours of being packed.  
So if we are shipping your order on Tuesday to arrive on Wednesday, the last day to add to your order would be Sunday.
Simply create another order.  At checkout choose the shipping option that says "Add this order to my previous order that has not yet shipped and ship them together".  If you choose this option, you will not be charged shipping for that order and we will ship spiderlings in all orders together.
I forgot to add a freebie to my order. How do I add one now?
We make it easy to add to your shipment. 
You can add to your shipment as long as it is not within 24 hours of being packed.  
So if we are shipping your order on Tuesday to arrive on Wednesday, the last day to add to your order would be Sunday.
Simply create another order.  At checkout choose the shipping option that says "Add this order to my previous order that has not yet shipped and ship them together".  If you choose this option, you will not be charged shipping for that order and we will ship spiderlings in all orders together.
Some tips on raising up Caribena versicolor (Antilles Pinktoe Tarantula) spiderlings
We want to share some tips for the care of these spiderlings with you. Spiderlings of this genus tend to be a bit more delicate, but there are some things you can do to help ensure that your versicolor stays healthy.
Housing: Your versicolor is still quite small and should be housed in a small habitat. In the wild they do not wander far from their webbing because they know it is risky for them to do so. They feel safe and secure within a small area where they have something to anchor webbing up high in the enclosure. Silk leaves work well for that because they are flexible.   The enclosure cannot be too high or the spiderling will not be able to set up it's webbing easily and will be stressed. Five to six inches is the tallest habitat it should go in. If a spiderling falls from a higher spot it could also get hurt and if this species is near molting it can be more difficult for it to climb up the sides of the habitat.  It is important to have tiny leaves (such as ivy) in the enclosure to web on.  They use small leaves to web them together.  This also makes it easier to feed them.  We highly recommend that you do not use an arboreal habitat that is upside down while this species is small.  A 50 dram vial works well for a 1/2″ – 1″ spiderling.
Feeding: Spiderlings from this genus tend to not venture downward in their enclosure to hunt for food. It is a good idea to try putting partially disabled food directly on their webbing for them. Many times they will take it directly from tongs or dull tweezers.  If you are using a habitat that has been turned upside down (where the top is used as the bottom), it makes it difficult to accomplish this.
Humidity: Lightly spraying the sides and a little on the webbing every 3 days or so is sufficient. If you see their habitat is maintaining humidity, you might consider drawing that out a bit. If you see condensation on the habitat walls, it is too humid.
I want to learn more about how to take care of tarantulas.
 The spiderling care guide put together by Tom Moran of
Tom's Big Spiders 
is a great resource and has many tips for raising up small spiderlings.  It will answer most all questions and can be downloaded from the link below.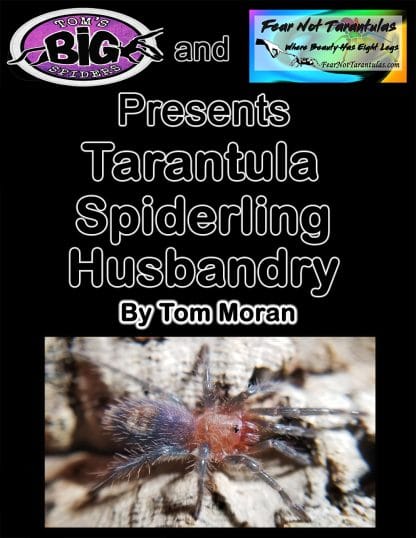 For more information about feeding and housing, check out Tom's Big Spiders.  Tom has many podcasts, YouTube videos, and articles about everything you would want to know regarding tarantulas.
The Ultimate Tarantula Sling Guide – Part 1
The ULTIMATE Tarantula Sling Guide – Part 2
Another wonderful resource is The Tarantula Collective.  Richard Stewart has many videos on YouTube with beautiful footage of many species. You can join their Face Book forum to chat with others about tarantulas.
TOP 10 Mistakes Keeping Tarantulas – Tarantula Tuesday ep 29
When, what, and how often do I feed my spiderling?
Feeding appropriately sized crickets or roaches once or twice each week for small spiderlings is just fine. We feed spiderlings the weekend before they ship.
For more information about feeding and housing, check out Tom's Big Spiders.  Tom has many podcasts, YouTube videos, and articles about everything you would want to know regarding tarantulas.
The Ultimate Tarantula Sling Guide – Part 1
This is my first order and I would like to know what to expect.