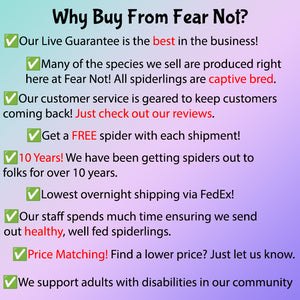 Questions? Just email us at support@fearnottarantulas.com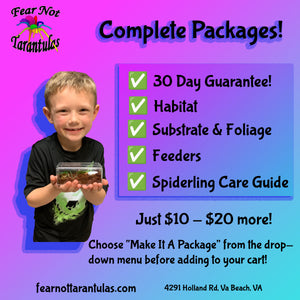 Want to start keeping tarantulas but don't quite know where to start?
✅✅ Complete Packages! For just $10 - $20 more you get so much! Just choose "Make It A Package" from the drop-down menu when adding the spiderling to your cart. A Crystal Clear habitat is included that is guaranteed to be a good habitat for at least 2 months. In many cases your spiderling will not need to be rehoused for 3 months or more. A 30 day guarantee and feeders are included as well! EVERYTHING you need is right there for you. https://fearnottarantulas.com/pages/complete-packages-what-is-included *Not all species are offered in a "Complete Package"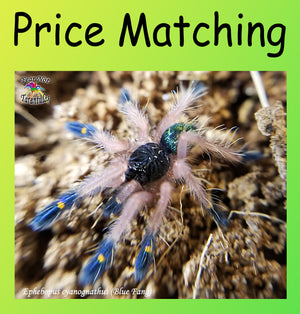 Find a species at a lower price? Just email us! We want our customers to feel assured they are making the best purchasing decision with their hard earned money. 😊
We are glad to consider price matching. Just email support@fearnottarantulas.com with the link. This must be done before ordering.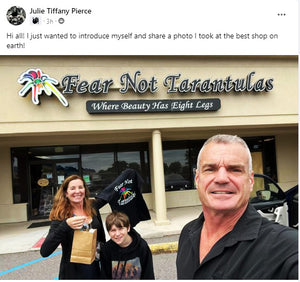 If you are in the area, we would love for you to visit our beautiful shop in Virginia Beach!
Hours:
Saturday through Tuesday 11-5
Thank you for helping support a great group of folks! The Fear Not Team works hard to bring you healthy spiderlings.

Fear Not Tarantulas
4291 Holland Road #110
Virginia Beach, VA 23452
Open Saturdays - Tuesday 11:00 am - 5:00 pm
Closed Wed - Friday.
757-657-8113
support@fearnottarantulas.com